Say Hello to Tony Correa!
Tony, one of our veterinary technicians, has been with us since October 2021. Since the day he started, he has been an exceptional addition to our team and we couldn't be more thankful to have him. He is happy, he's positive and he's always willing and wanting to help those around him. His demeanor and the way he cares for our patients is inspiring.
Working in the veterinary industry is not easy. It's emotionally taxing, it's physically demanding and it requires that each one of us commit our whole being. It's often difficult to balance our personal/work lives because of how invested we are in care-giving.
Tony has pushed through every obstacle that's been thrown his way and done it with pizzazz. Today, we're celebrating him, but we're also celebrating the multitudes of people just like him.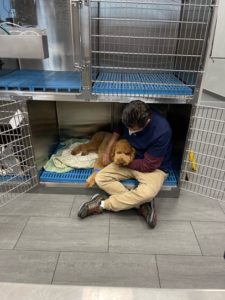 Quotes from other team members about Tony:
"I love the way tony pronounces words with his queens accent lol "On the regulah""
"Tony Correa you're always happy and positive!! You help out whenever you can no matter if it's the front back and even the office. You da best!"
"Tony Always keeps my spirits up and makes everyone laugh😊"
"When my dog got attacked he was there helping out. Till this day he still asks how Dean is doing 🥺. My sundays were always fun working with him at CS."
"1. You always help me with big dogs and nasty clients
When you call out and it allows me to pick up an extra shift at CS
You are always positive about our day"
"1. You buy me the ginger ale that's like crack to me
You're always uplifting people during the day
You're ready to go !"
"I enjoy working with you every day! When we're down a tech I know we'll be fine because with you on the team we get things done!! You make us laugh all the time and always ask how I'm feeling."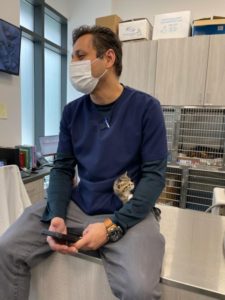 "1. My favorite paisa
You always make sure everyone is ok.
You are always uplifting everyone."
"Tony your energy is amazing. It's always a vibe when you're at work. Thank you for all that you do! You the bestest!!!!"
"Tony, my man!
Like everyone says you have a great attitude and energy while at work.
You make sure the pets get what they need and treat clients as if they are family.
You are always getting us snacks and making sure we are happy and fed. 😸
It definitely says a lot about a person who puts others in front of themselves and we appreciate it!
Thanks for everything 🤘🏻"
"Tony makes me crack up during the times I need it! He's always got something to say, and agree the accent is 👍…"DR. HASAAMII, I got your next one!". Keep on keeping on, Hope your doing well!"
"DITTO on all of it. He's the male version of Ms Congeniality."
"My Heineken bro!"
"Tony you are always very welcoming when I go to CS. And yes I always see you with a smile 👌🏼"
"Antonio! Everyone already pointed out your great qualities. He is always up for anything and lends a helping hand in any situation, even when it includes an angry patient. I always feel safe when he's restraining. Keep up the positivity and the great work! He also always has a great appetite and keeps us fed. 🍿🍦🍓🥯🥖🧀"
"Agree, your great qualities have been pointed out.  You're always positive, make us all laugh, helpful in any situation and u have a go-getter attitude.  Definitely a pleasure working with you.  It's also nice having another male technician to work with 😎."
"There isn't ample space for me to gush about this great guy, but I'll give it a whirl. Tony has a truly infectious joie de vivre coupled with a delicious cynicism for People Behaving Badly, yet makes even the most cantankerous client feel welcomed and exudes boundless love towards all patients. He freely expresses his appreciation and affection for his colleagues and always acknowledges my contributions which is utterly humbling and validating. Tony gets me and I get him and I know I can always count on raucous laughter and raunchy humor, as well as endless passion for food and fun. We're also the same astrological sign to boot and he always loves my baked goods except for that time I overbaked the GF brownies by 25 minutes and he let me know in no uncertain terms how badly they sucked (and threatened his dental work). Simply put, Tony is SuperTech and I adore him beyond measure! 💜💙"